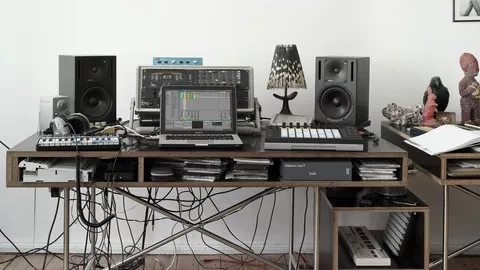 Ableton Workflow Tutorial How To Make A Track In A Day (2023) [TUTORIAL]
Ableton Workflow Tutorial – How To Make A Track In A Day
What you'll learn:
Learn How To Make A Track In Ableton
Learn About Ableton Live
Learn About Arrangement
Learn About Sound Design
Requirements:
Ableton – Or Trial From Website
Description
Ableton Workflow Tutorial – How To Make A Track In A Day5-Star Reviews 1. RandyOmar has a lot of experience as a DJ and a good understanding of the music business side of things. He's helpful in any regard and is practical when explaining ideas. Overall great session.2. BrettOmar knows his stuff – both as a DJ and producer!3. HarryOmar changed the way i see ableton. Big recommends for anyone looking to expand their profile, up their work flow or master ableton! Big up4. SamOmar was incredibly inspiring and helpful. I'm looking forward to continuing to progress towards a career in music with his direction.5. JamieA truly experienced professional in the music industry, knowledgeable in all areas from production to marketing and distribution. Each lesson I take away valuable information and advice that accelerates my career. Thank you Omar6. KyleOmar is an very experienced and well rounded DJ, with knowledge of a wide variety of genres. He has massively improved my mixing within a matter of weeks. Furthermore, I look forward to his coaching regarding music production and self promotion in the future. Overall, I have come on leaps and bounds under his guidance.7. DavidOmar is very knowledgeable about music production. More importantly he knows how to save a lot of time and time saves money and that's a good thing. You'll make his fees back because you'll be able to produce much faster. Save your time and your money with Omar.8. ShannonOmar is a trustworthy tutor He taught me how to DJ from scratch and I now play on the radio He is an expert and very professional9. YasminOmar is a trustworthy tutor as he is always on time and very patient with his clients, he helped me start up on my producing and getting to grips with the software I use as well as some important tips and tricks.10. NicoleOmar is a fantastic tutor, a passionate dj who taught me how to start up on my decks, transitions and bpm through to producing my own records and signing to record labels. I recommend him 100%.11. WajihI've met Omar through one of his online courses then decided to meet 1:1. Upon working with Omar for almost half a year now, Omar has a vast amount of knowledge in the DJ industry and has played at countless festivals and clubs to attest to it. There is a wealth of knowledge in his DJing and music production courses and am very glad to have met him!12. VazLearnt Ableton 11 really quick. Highly recommended tutor.13. KazI am one of Omar's current students , I'm having bespoke lessons . Omar is knowledgeable, easy to work with , and – bonus – a nice guy . His Ableton & DJ lessons over zoom are really helpful and good value .14. ChrisI First Met Omar through a Udemy course i was taking then, Decided to have a one to one coaching session with him he was very kind, gave concise information, and actually got me signed to Atmos Tempo Records, i am now signed with 3 different labels and he has really helped me get on that ladder to being on a major label, Omar really knows his stuff including Music Production, DJ-ing, Mixing and mastering, he also has the music workflow academy which has won many awards of which i am a student to there, I cannot recommend Omar enough. C B Disco Kid15. JosephTop quality tuition building on prior knowledge and picking up quickly what my personal taste is and running with it. Great teacher and great lessons16. TomHi, my name is Tom. I am studying Dj'ing for my GCSE. I met Omar and music workflow academy and he has been teaching me the basics such as beatmatching, hot cues, transitions and recording my first set. I look forward to my future with music workflow academy and DJ'ing.17. MarkGreat knowledge and teachings from Omar, breaks things down into simple terms.18. JohnGreat experience working with Omar. Unique and highly engaging approach. Can't wait to see what's next!19. HollieOmar is amazing and so gifted! He has so much knowledge and experience and teaches in a way that is easy to understand. I'm absolutely loving my weekly sessions.20. CaitlinOmar is amazing and so gifted! He has so much knowledge and experience and teaches in a way that is easy to understand. I'm absolutely loving my weekly sessions.21. KyleGreat lessons, easy to understand and work with. Would recommend.22. JoshYou would be silly not to. Taught me so much and so much more to come, constructive feedback always and network of people is unreal.Enrol Today and See you in Lesson 1!Cheers,Omar
Who this course is for:
Ableton Live Users
Music Producers
DJ's
Hi Guys,this is the OFFICIAL Fls Audio Website. Visit every day www.flsaudio.com to watch the latest posts.Save the link on your browser.Respect!