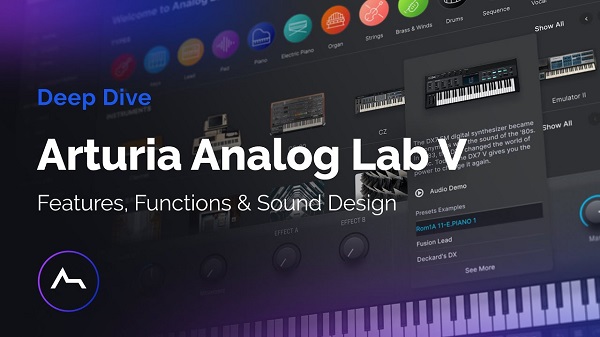 ADSR Courses Arturia Analog Lab V – Features, Functions & Sound Design TUTORIAL
Discover the full potential of Arturia's Analog Lab V – a software synth and sound library with thousands of vintage and modern sounds. Pro producer and educator, Paul Nolan leads this in-depth course that dives from the basics of the browser straight into sound design. With the right skills, Analog Lab V is a formidable tool for creating infinite orchestras of unique sounds.
Don't miss the chance to discover new, endless possibilities for your music with Analog Lab V and ADSR.
COURSE FEATURES
Watch, Listen and Learn – our easy to follow video instruction walks you through Analog Lab V. Producer, Sound Designer and Educator, Paul Nolan works on a Melodic Techno track to showcase with plenty of practical sound design tips to make you a power user.
Over 1 hour of professional video instruction
Structured by sound types so you can easily find the right lesson and refer back to relevant sections in the weeks and months to come
6 in-depth lessons each giving a thorough walkthrough of sound selection and sound design with Analog Lab V

Introduction to course
Getting Started With Analog Lab V – Plugin Overview
Drums
Reese Bass
Stab Bass
Pads
Arpeggios
Conclusion

Understand both theory & practice with an accomplished Producer and Mentor
Learn at your own pace, watch as many times as you need to learn the lessons
Hi Guys,this is the OFFICIAL Fls Audio Website. Visit every day www.flsaudio.com to watch the latest posts.Save the link on your browser.Respect!