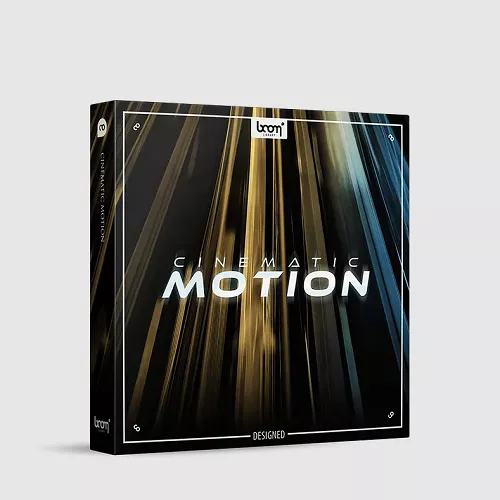 Boom Library CINEMATIC MOTION – Designed WAV
Don't let your movie and video projects sound still or lifeless, breathe movement and energy into them with CINEMATIC MOTION. A cutting-edge sound effects library designed to make your audience feel the momentum, pace, and cinematic power of your project. CINEMATIC MOTION is a sound library crafted to make creative sound design as advanced as possible.
With astonishing clarity and thundering intensity, BOOM Library presents this new collection of transitions, slow and fast whooshes, zaps, and particle sounds for any number of movements flashing by. The collection bringing you a new dimension of excitement for your trailer or other project.
CINEMATIC MOTION DESIGNED
KINETIC SOUND DESIGN
The sounds in this collection are more complex and layered and feature a heavier level of design. Composed of expertly crafted whooshes, transitions, zaps, particles and complex movements, these are designed to be much punchier and more impactful.
TRUE DRAG AND DROP
Created with the idea that you won't have to do any further sound design yourself. These sounds are already forged to perfection, allowing you to simply drag and drop what you need and not have to worry about any additional sound design.
WHAT WE RECORDED
We tapped into deep creative springs in order to present to you this collection of trailer sound effects. Every sound contains a sense of motion, carrying your images across the screen and into reality. We recorded sounds from synthesizers as well as organic sources, which included the wind, rocks, clothes, and more.
WHAT'S SO SPECIAL ABOUT THIS LIBRARY?
From trailers and cinema projects, to presentations and vlogs, everyone uses movement to make their projects more exciting. CINEMATIC MOTION focuses on boosting that sense of movement and immersing your audience in the complete atmosphere of your project.
Our sound designers are constantly on the lookout for revolutionary and novel sound effects. They work every day to raise the bar, create new things, set trends to keep reinventing the world of sound design and meet the high-quality standards of BOOM Library. CINEMATIC MOTION – crafted to make creative sound design as advanced as possible.
COMPATIBLE SOFTWARE
This Library of creature sounds comes as WAV files, meaning you can import and work with them in any software that can handle this file type.
RICH METADATA EMBEDDED
To provide you with the fastest and easiest workflow possible, all files contain extensive metadata like file description & keywords to quickly find the sounds you're looking for. Metadata can be read and processed by audio management tools.
Demo Preview:
Hi Guys,this is the OFFICIAL Fls Audio Website. Visit every day www.flsaudio.com to watch the latest posts.Save the link on your browser.Respect!