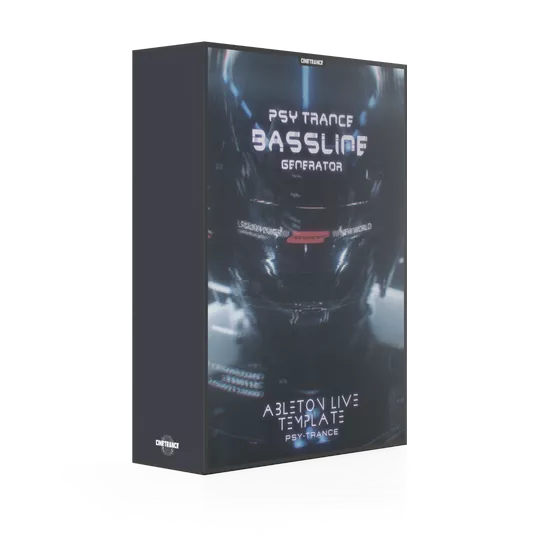 CineTrance Psy-Trance Bassline Generator ALP
Psy-Trance Bassline Sound Design is definatly one of the hardest process in music production. Find the sweet spot between Kick and Bass is a big challenge that needs to be learn carefully and that need a lot of experimentations over the years in the studio and on the dancefloor. Most of the beginners will not be able to finalize any music ideas because of a poor quality bassline. When you feel this is not that "big power" from your favourite artists, you know this feeling? We did too! Here at CineTrance, we spent over the last decade seeking for the best sounding psy-trance bassline possible.
So we finally decided to make a dream come true for all of you and we have created "Psy-Trance Bassline Generator". An Ableton Live Template destinated to cover all key range of the bass, with 8 types of specific Bass for all kind of modern progpsy, morning & night full-on psy-trance genres. It also covers almost all kind of bassline patterns (straight, triplet and various grooves) and with 8 types of different Kicks, fully tested on the dancefloor.
Psy-Trance Bassline Generator Vol.1 is a must-have tool for anyone who plan to produce some serious psy-trance bassslines for the dancefloor. We all know the hard process to create solid psy-trance basslines, but this tool will save years of work. No additional mastering tools added in this template, but you will already feel the natural loudness of the basslines, like the pro.
How Does It Work?
Launch any of the 36 bassline scenes available in Live mode and play instantly professional psy-trance basslines.
Easily custom any bassline, by tweaking any Kick or Bass patch inside KICK 2 (Sonic Academy) and Operator. (Ableton Live)
Edit and tweak any Kick or any Bass MIDI pattern.
Process the bass in detail with the professional FX plugins presets for the following VST plugins included within the 8 bass racks: FabFilter Saturn, Analog EQ bx_console N, LFOTool, Waves L3-LL Multi. (you must own these plugins in order to use our dedicated presets)
Play with your Bassline with 2 Ableton Audio Effect Racks from our PSY-ARTFX release. (Play With Your Bassline + The Filter)
Monitor every elements of your bassline with a meticulous precision and make the right decisions, by using some state of the art plugins like Oszillos Megascope, bx_meter or FabFilter Pro-L2 on your Master Bus.
Hi Guys,this is the OFFICIAL Fls Audio Website. Visit every day www.flsaudio.com to watch the latest posts.Save the link on your browser.Respect!