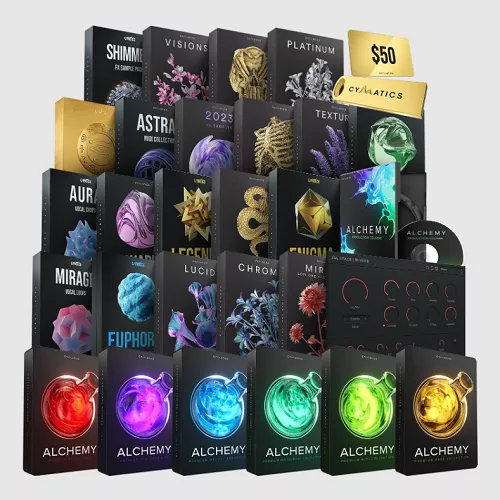 Cymatics ALCHEMY Launch Edition WAV MIDI
ALCHEMY – The Ultimate Weapon For Creating Memorable Melodies
Everything You Need to Create Memorable Memories
Only available 1000 licences available for Alchemy Launch Edition
ALCHEMY: Premium Melody Enhancers
Melody Enhancers For Adding Unique Flavor To Your Melodies
This pack delivers on creative melodic accents and phrases that we put together for layering into your melodies.
You can use these either as a foundational element, chop them up, or simply splash them into your melody idea to add more depth.
These are perfect for those situations where you're looking to fill up a bit of empty space, to really flesh out your melody to a finished product.
ALCHEMY: Premium MIDI Collection
Expertly Written MIDI in Multiple Styles & Genres
We had our team of top loop makers write a wide selection of MIDI compositions that you can use to create a foundation for your melodies.
This includes a variety of MIDI, written in a multitude of styles and genres to give you no shortage of creative inspiration.
We took inspiration from multiple moods of melodies such as Dark, Lush, Nostalgic, Sad, Wavy, and Triumphant.
You can customize the MIDI to your liking, study how we write our melodies, or simply use them as is.
*Every MIDI is 100% royalty free, so you can use them straight out of the box.
ALCHEMY: Premium Instruments Collection
Handcrafted Synth & Instrument
One Shots For Any Style of Melody
For this pack, our team spent time recording and designing each of these one shot samples by hand.
Each one shot has its own unique character, as we focused heavily on the processing of each sound.
You'll find a variety of different styles inside, with tons of different instruments and synth based one shots for building melodies that stand out.
ALCHEMY: Premium Bass Collection
Unique Bass One Shots To Make Your Low End Thrive
This collection includes a selection of meticulously crafted bass one shot samples, each designed to boost the low end of your melody.
We've included a variety of bass styles inside, so you have a ton of options for any direction you choose to go with your low end.
Inside this pack, you'll get premium bass styles such as Reeses, Donks, Subs, and more.
ALCHEMY: Premium Percussion Collection
Unique Percussive Textures To Add Rhythm & Depth To Your Melodies
This section of ALCHEMY is all about rhythmic textures to add more energy to your melodies.
We created these percussive elements to compliment your melody ideas for whichever direction you're going creatively.
You can use these to layer into your melodies and completely change the sound and rhythm throughout your concept.
ALCHEMY: Premium Textures & FX
Lush Ambience & FX Designed To Elevate Your Melodic Ideas
This section of ALCHEMY provides you with a wide range of lush sounding ambience & fx samples.
For this pack we focused on one of the most important elements of melody creation, the ear candy.
Using these, you can layer and transform your melodies into something completely special.
Exclusive Launch Bonuses Included
BONUS #3-7 MIDI Launch Bundle
All 1000 producers that get ALCHEMY will also receive 5 Premium MIDI packs, providing no shortage of options for melody ideas.
You can use these to study how we write melodies, edit them to fit your idea, or simply use them as is, 100% royalty free.
5 Premium Packs Included:
Enigma: MIDI Collection
Astral: MIDI Collection
Visions: MIDI Collection
Orion: MIDI Collection
Anarchy: MIDI Collection
BONUS #8-12 FX Launch Bundle
1500+ Premium FX Samples To Add Unique Flair To Your Melodies
To give you even more creative inspiration, we're including 5 Premium FX packs for all 1000 people that get ALCHEMY.
You can splash these FX throughout your melodies to add a special flair and bring them to life in a way that stands out.
5 Premium Packs Included:
Pyramid: Premium FX
Textures: FX & Ambience
2023: FX Samples
Shimmer: FX
Pressure: FX Kit
BONUS #13-17 Vocal Loops Launch Bundle
1400+ Premium Vocals For Adding Human Emotion & Depth
We're including 5 Premium Vocal packs for all 1000 producers that get ALCHEMY.
These vocal samples are perfect for adding natural human emotion and depth to any melody you're creating.
5 Premium Packs Included:
Mirage: Vocal Loops
Euphoria: Vocal Sample Pack
Aquarius: Vocal Samples
Lucid: Vocal Samples
Aura: Trap Soul Vocals
BONUS #18-22 One Shots Launch Bundle
4500+ Analog Synth & Instrument One Shots To Bring Your Melodies To Life
Sound selection is key when making a melody, so all 1000 producers that get ALCHEMY will also receive 5 Premium One Shot packs.
This includes a library of insane one shot samples from our collection of legendary analog synths, as well as other various instrument one shot samples.
(This includes our entire LEGENDS One Shot Collection.)
5 Premium Packs Included:
Legends: Analog Synth One Shots
Chroma: Synth One Shots
Mirage: Lofi One Shots
Platinum: One Shots
Surge: One Shots
Demo Preview:

Hi Guys,this is the OFFICIAL Fls Audio Website. Visit every day www.flsaudio.com to watch the latest posts.Save the link on your browser.Respect!