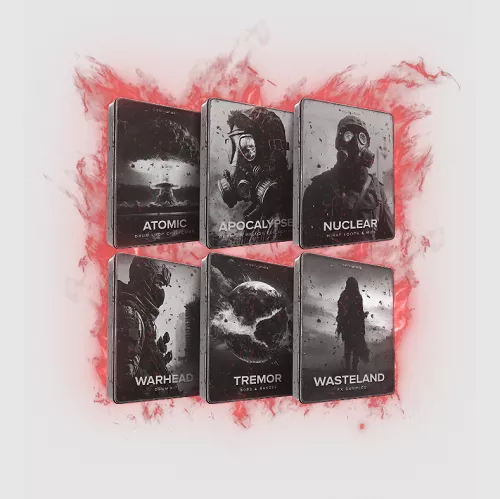 Cymatics APOCALYPSE – Launch Edition WAV MIDI
Our Heaviest Placement Ready Melodies, 808s, Drums, & FX Yet
6 New Hard Hitting Sample Collections Included:
1000 Licenses Available For APOCALYPSE Launch Edition
Apocalypse: Premium Melody Collection
Placement Ready Melody Loops With a Villainous Aesthetic
This collection includes high energy melodies that capture the essence of Dark Trap heavy hitting music.
We took heavy inspiration from major artists like Nardo Wick, Lil Baby, Gunna, and many more to create brooding melodies that pair with heavy bass & drums.
Inside the pack, you get access to 100 new placement ready melodies in a variety of different styles, key and bpm labeled with full stems & MIDI.
Tremor: 808s & Bass Collection
Menacing 808 & Bass Samples That Pack a Heavy Punch
TREMOR is our latest collection of the hardest 808s & basses that we've ever put together.
This includes a variety of different low end styles including distorted 808s, long & short 808s, reese basses, donks, and more.
Everything inside has been processed and tested through multiple sound systems, to ensure that they punch through on any speaker system.
Warhead: Drum One Shot Collection
Hard Hitting Drum Samples Processed To Slice Through Any Mix
Our team studied the hardest drums in the game to put together a variety of Kicks, Snares, Claps, Hi-Hats, and more that pack a serious punch.
Everything inside is pre-processed for maximum impact, catering to the hard hitting sound of today's Dark Trap music.
These are ready to go straight out of the box, so there isn't any additional processing needed to get them to cut through the mix.
Atomic: Drum Loop Collection
Battle Tested Drum Loops Optimized For Hard Hitting Tracks
ATOMIC focuses entirely on fully fleshed out drum loops that our team has battle tested through actual beats made with APOCALYPSE.
This gives you a wide variety of different hard hitting bounces that you can easily drag in and audition for your tracks.
And we processed each of these drum loops to hit as hard as possible, so they pack a serious punch right out of the box.
Wasteland: FX Collection
Unique FX Samples Inspired by an Apocalyptic-like Soundscape
This collection focuses entirely on unique FX samples, inspired by the ominous aesthetic of an apocalyptic-like soundscape.
We did a deep dive into the types of FX sounds that you would typically associate with dark, end of the world-esque scenery.
You can drag these into any project you're working on to add that extra bit of flair to spice your tracks up.
Nuclear: Hi-Hat Loop Collection
Bounce Driven Hi-Hat Loops Handwritten For Dark Trap
NUCLEAR includes a variety of handwritten hi-hat loops & MIDI for producing Dark Trap.
You can use these to make building your next hi-hat pattern a lot easier and inspire new ideas, especially with the flexibility of the MIDI files.
Each of these patterns were designed in the context of beats that we made using the pack, so they are ready to go for anything you make with APOCALYPSE.
7 Exclusive Launch Bonuses Included For Free:
EXCLUSIVE BONUS #2
150+ Placement Ready Trap Melodies With Stems & MIDI
This bonus collection details 6 of our favorite hand-selected Trap melody packs that pair perfectly with APOCALYPSE.
This includes a variety of different melodies to give you even more fuel for making hard hitting tracks.
Each melody inside includes their original stems & MIDI as well, to give you full creative control over each sound.
EXCLUSIVE BONUS #3
2200+ Premium Hard Hitting Trap Drum Samples
We put together some of our favorite hard hitting drum kits & drum loop collections that work well within the context of Trap.
Inside, you'll get everything from punchy kicks, snares, hi-hats, claps, cymbals, 808s, and more for building banger tracks.
Every drum sample inside is processed to cut straight through any mix you throw them at.
EXCLUSIVE BONUS #4
400+ Hand-Selected Heavy 808 Samples
To give you even more inspiration for your low end, we put together 6 collections of heavy 808 samples.
These are some of our favorite 808s from over the years, including everything from long 808s, short 808s, distorted 808s, basses, and everything in between.
Every 808 inside has been tested in the context of different Trap styles, so there is no shortage of options when it comes to heavy bass.
Demo Preview:

Hi Guys,this is the OFFICIAL Fls Audio Website. Visit every day www.flsaudio.com to watch the latest posts.Save the link on your browser.Respect!