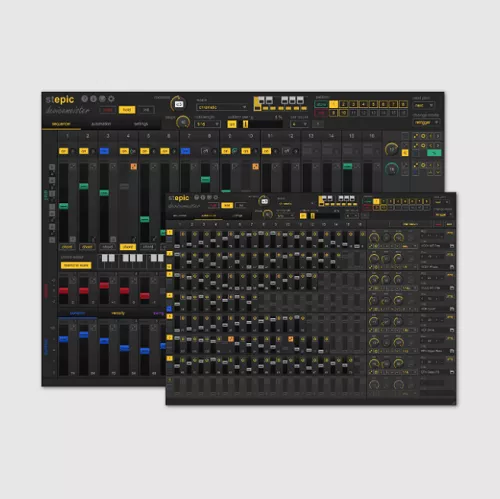 Devicemeister StepicVST WIN & macOS
Step and Modulation Sequencer Powerhouse Now available as Standalone VST / AU Plug-In for various hosts.
Sequencer Powerhouse
StepicVST isn't just a powerful and versatile polyphonic step sequencer. 8 additional and fully integrated modulation sequencers make it a true sound shaping tool. Use them to automate any parameter (e.g. Filter Cutoff, Wavetable Position, Effect Amount) of your favorite synthesizers or effect devices. With its support for MIDI CC, StepicVST offers you parameter control for both software plug-ins and hardware devices.
By assigning different tempos and sequence lengths to the modulation sequencers, StepicVST lets you create deep, polyrhythmic parameter progressions that add a lot of motion and uniqueness to your sound. And if that's not enough, bring the 200+ random generators into play 😉
Full Feature List
Apple M1 native support.
MIDI FX version for Apple Logic Pro included.
Fully scalable user interface.
16 step sequencer.
Per section adjustable Sequence Length (Pitch, Octave, Velocity, etc.).
16 Pattern Storage.
Pattern Concatenation.
Extendable pattern length up to 16 bars.
Maximum sequence length: 4096 steps (16 steps x 16 bars x 16 patterns).
Step Connect option for merging two or more steps into one.
Fully customizable scale system.
Per step Chord Play.
6 octave Chord Editor for comfortable note input.
Option to tie chord notes to the current scale.
Note Repeat section.
Note-On/Off Probablity.
200+ randomization options.
Value Randomization for Pitch, Octave, Duration, Velocity, Step Swing, Divider and modulation values.
Configurable ranges for Value Randomization.
Clipboard function.
Per section Quick Dice for fast & randomized value input.
Per section Retrigger options (note & modulation sequencers).
Per section Random Step Order options.
Per step Note Offset.
Per step Note Divider option.
Adjustable Root Note.
8 independent modulation sequencers for parameter automation.
Modulation Targets: All MIDI CC capable devices (Software & Hardware).
MIDI Device Manager for storing MIDI maps
Individual Sequence and Note Length for modulation sequencers.
Custom Note Length option for note- and modulations sequencers (Range: 1/99 to 99/1).
Pattern Change Modes: Free Run, Retrigger.
Hi Guys,this is the OFFICIAL Fls Audio Website. Visit every day www.flsaudio.com to watch the latest posts.Save the link on your browser.Respect!