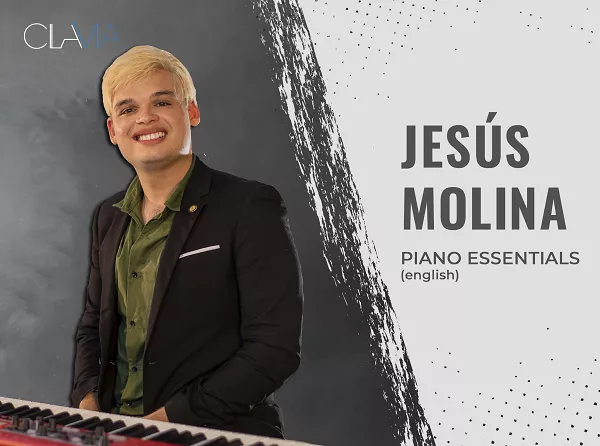 Jesús Molina Piano Essentials TUTORIAL
MORE THAN A COURSE, IT IS A PIANO METHOD
"After doing several piano courses in different languages ​​and aimed at various audiences, I discovered what pianists around the world are really looking for.
This new course is methodical, progressive and more pedagogical. I don't want to show you what I can play, I want to teach you step by step so you can develop your own talent. "
– Jesus Molina
INCLUDES
20 EXTENSIVE VIDEO CLASSES
✓WORKBOOK: PIANO METHOD
✓ MIDIS AND BACKING TRACKS
✓ EXTRA EXERCISES VIDEOS
✓TUTORING PROGRAM
Content:
I. Start to improvisation
2. Minor modes
3. Arpeggios
4. Two Five & Giant Steps
5. Greek modes I
6. Greek modes II
7.Outside I
8. Outside |I & Staccato
9. Melodic development
Support Material
I. MIDI of everything played in class
2. Piano exercises in MIDI
3. Backing tracks
4. Piano method in PDF
10. Harmonization of a simple song
11. Secondary dominants
I 2. Piano exercises
13. Ballad
14. Bill Evans and his harmony
15. Rhythmic development
16. Ensemble I: Softly As In The Morning Sunrise
17. Ensemble Il: A Night In Tunisa
18. Irregular bars
Hi Guys,this is the OFFICIAL Fls Audio Website. Visit every day www.flsaudio.com to watch the latest posts.Save the link on your browser.Respect!