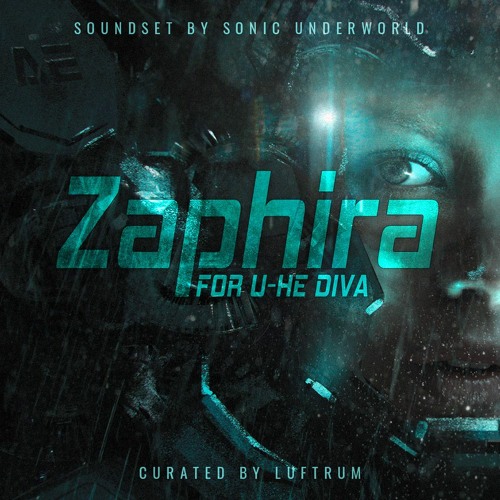 Luftrum Zaphira for U-He Diva
The year is 2540, a battle is raging between humans and machines. Zaphira, a child of the Star Rebel Alliance, strides forth among the stars, in a galaxy torn by war. Being the only hope for the last colony of humankind, her mission is both euphoric and terrifying, as she confronts her inner bravery to save humanity…
Introducing Zaphira a modern cinematic marvel, containing 150 inspiring analog patches for your next sonic adventure and probably one of the most cliffhanging, suspenseful and adrenaline driven widescreen collections of U-He Diva patches in the Luftrum portfolio.
Stark realities clash like the tides of space, as hypnotic arpeggios, sequences and driving low basslines combine to form the music of your next journey into deep dark space. Lush and evolving widescreen pads, breathtaking basses and powerful rich synth sounds will rocket you through the sonic cosmos, like the brave explorers of generations past. The soundset aims to bring you the best of modern cinematic analog emulation and has everything you'd expect from analog sounds, all crafted with a contemporary, eye-widening, cinematic and sci-fi edge in mind.
Influences are composers such as John Murphy (Sunshine), Jon Hopkins (Monsters), Ben Salisbury & Geoff Barrow (Annihilation, Ex Machina), Wojciech Golczewski (400 Days), and artists in the vein of Tony Anderson, Melodysheep, Underworld, and Solar Fields.
Zaphira is fully NKS compatible, relevant for users of Komplete Kontrol hardware by Native Instruments. It includes tagged NKS presets, sorted in a Zaphira subbank and comes with NKS audio previews.
Each patch has dedicated modwheel assignments. Aftertouch is used to lend more expression, wherever necessary. All patches leave a few dB headroom and there's a PDF guide included, describing how to install the set and where to place the NKS presets.
The artwork for the cover is created by concept artist Juan Pablo Roldan and licensed with permission.
Demo Preview:

Hi Guys,this is the OFFICIAL Fls Audio Website. Visit every day www.flsaudio.com to watch the latest posts.Save the link on your browser.Respect!