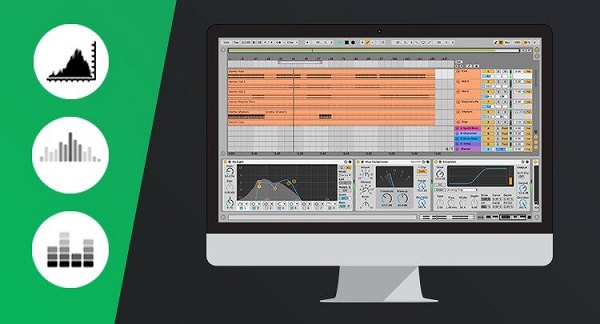 Mixing & Mastering Electronic Dance Music (EDM) TUTORIAL
EDM mixing and mastering made simple and easy to understand.  Learn how to professionally mix and master your tracks, boost your confidence in your production skills, and get the sound you've always wanted.
Rarely does a mixing and mastering course come along that takes you through every step, every plugin, and every thought that goes into producing a professional quality EDM track.
That's exactly what this course does.  It's packed with hours of the best, most up-to-date techniques needed to mix and master an electronic dance music track from start to finish. This course uses both native (meaning, included with DAWs) and third-party plugins, but it does not matter which DAW you use or which plugins you have. With the skills and techniques taught in this course, you'll transform your rough or unmixed project into a polished master ready for release.
You'll understand WHY and HOW things are done with detailed explanations that will not leave you confused or frustrated.  Extra care was taken to make sure things are kept simple, easy to understand and focused on your workflow and getting things done.
Things you'll learn in this course include:
Project and arrangement setup
Mix buss processing
Send/return channel setup
Vocal tuning and mixing
Automation and creative mixing techniques
Parallel compression and processing
Advanced EQ, compression, reverb, and delay techniques
Professional mastering techniques
much much more…
Producers of any genre of electronic dance music (EDM) will find this course unlike any other.  The mixing and mastering process is broken down and explained in full detail without being overwhelming – or boring.
Who this course is for:
Electronic dance music producers
EDM producers
Anyone who wants to learn mixing and mastering
Anyone who wants to learn advanced music production techniques
What you'll learn
Mix and master your tracks to commercial standards so your tracks are ready for release.
Setup your projects so you stay organized and work quickly.
Develop an efficient workflow so you get consistent results.
Use EQ, compression, distortion, limiting, parallel processing, reverb, delay and more.
Finish more tracks quickly and easily.
Use free tools and spend less time worrying about plugins and gear.
Master your tracks for commercial loudness and quality.
Gain confidence in yourself and production abilities
Requirements
Any DAW such as Ableton Live, FL Studio, Cubase, Logic Pro etc…
Plugins that you're comfortable with (any plugins will work)
An electronic dance music track to work on.
Don't worry if you don't have a finished track to work on because you can download the stems used in this course.
A VERY beginner friendly course. Don't worry if you don't have experience.
Hi Guys,this is the OFFICIAL Fls Audio Website. Visit every day www.flsaudio.com to watch the latest posts.Save the link on your browser.Respect!