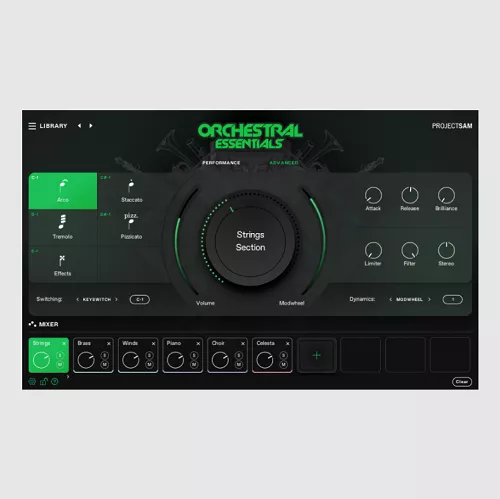 Orchestral Essentials 1 v2.0 Kontakt Library
Covering full orchestra, strings, brass, woodwinds and percussion, Orchestral Essentials gives you the right tools to start scoring for film.
For aspiring composers.
Includes content from our acclaimed Symphobia Series
Epic full orchestra articulations
Symphonic string, brass and wind ensemble articulations
Legato ensembles with real note transitions
Classical and world percussion
Cinematic effects, clusters and percussive hits
Ensemble philosophy
Featuring an ensemble that consists of (bass) clarinet, bassoon, trumpet, trombone, violin, contrabass, piano, harp and percussion, Animator specializes on short, snappy and playable articulations, phrases and special effects.
Fully updated
The new 2.0 version of Orchestral Essentials offers a completely modernized library experience, with a new engine and design, all-in-one browser, reimagined Multis, improved legato engine, envelopes and filters – and Adaptive Sync. 100% free for all existing users!
Native Kontrol Standard
Navigate instruments, browse presets and control parameters directly from your Native Instruments hardware of choice.
Adaptive Sync
Quickly and effortlessly match sampled crescendos, rolls and risers to your project's tempo.
ORCHESTRAL ESSENTIALS Instruments
Full Orchestra Mixed sections performing together
Full Orchestra 1 Action
Full Orchestra 2 Suspense
Full Orchestra 3 Epic
Full Orchestra 4 Dark
Full Orchestra 5 Warm Sustains
Full Orchestra 6 Long Chords
Full Orchestra 7 Short Chords
String Ensemble Recorded as ensemble spread over the keyboard unless specified
Arco
Staccato
Tremolo
Pizzicato
Cinematic effects set
Legato violins with flutes
Legato cellos with basses
Brass Ensemble Recorded as ensemble spread over the keyboard unless specified
Sustain
Staccato
Muted staccato
Cinematic effects set
Legato horns with trombones
Solo trumpet sustain
Solo horn sustain
Solo trombone sustain
Woodwind Ensemble Recorded as ensemble spread over the keyboard unless specified
Sustain
Staccato
Cinematic effects set
Legato flutes with clarinets
Ethnic flute phrases set
Overblown flute staccato
Flute and piccolo runs
Percussion
Orchestral percussion kit
Timpani
Xylophone
Glockenspiel
Celesta
Japanese percussion kit
Djembe ensemble
Cinematic percussion effects set
Tubular bells
New world percussion kit
Keyboards & Harp
Piano mystique (exclusive to library!)
Concert harp (exclusive to library!)
Harpsichord
Church organ
Sound Design
10 sound design instruments based on the orchestral audio pool
Choir
Bonus Instruments
Free jazz
Horresque
Kitteh
Lazy strings
Swat team
Tear of a clown
Wooden echo
Multis
48 inspiring Multis covering many cinematic genres
Additional information
All sounds are offered in 1 microphone set
Kontakt version
6.5.3 or higher
Kontakt version Required:
Download link
Hi Guys,this is the OFFICIAL Fls Audio Website. Visit every day www.flsaudio.com to watch the latest posts.Save the link on your browser.Respect!