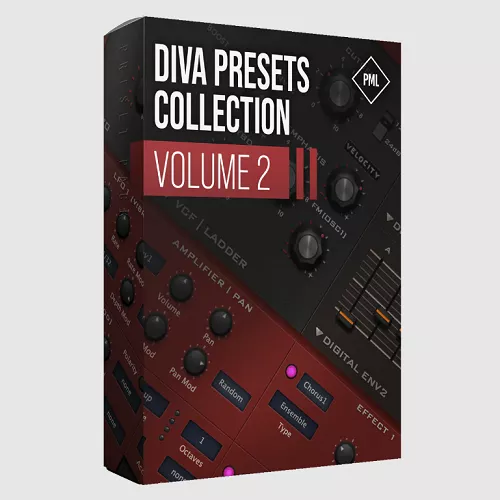 PML Diva Presets Collection Vol.2 MIDI H2P
From 6 Premium PML Packs get over 500 professionally created Diva Presets including Melodic, Organic, House, Techno and Underground presets made by artists like Yannek Maunz, François Rengère, Tim Engelhardt, Felix Raphael and more!
Ready-to-use presets and MIDI for you to save valuable time and create professional sound!
Presets were inspired by the style of artists like Rodriguez Jr., Bodzin, Tim Green, Tinlicker, Sébastien Léger, Monkey Safari, Afterlife, Anjuna, Stil vor Talent, Colorize.
Required software: U-He Diva VST/AU v1.4.5 or higher. It is not delivered with this preset collection.
What You Are Getting
500+ Professionally Produced Diva Presets from 5 Different PML Packs included Basses, Leads, Pads, Arps, Plucks, Effects, Atmosphere and more.
500+ MIDI Files Made with the Diva Presets from 5 Different PML Packs
What's Inside the Diva Preset Collection Vol.2
6 Diva Packs created by Pro Artists including over 500+ Diva presets and 500+ MIDI Files. Get all the essential sounds you need and more!
Melodic Techno and Trance – Diva Presets by Aiyn Zahev
130+ Diva Presets
130+ MIDI Files (one for each preset)
13 Arps
33 Leads
13 Bass
34 Plucks
14 Pads
06 Synth
05 Bass Stabs
04 Sub
05 Drums
03 FX
Deep Melodic Foundations for Diva
111+ Diva Presets
111+ MIDI Files (one for each preset)
13 Arps
28 Bass
01 Fx
11 Keys
17 Leads
17 Pads
14 Plucks
Melodic House – Rise – Diva Presets
90+ Diva Presets
90+ MIDI Files (one for each preset)
29 Arps
20 Bass & Synth
06 Fx & Bells
12 Keys & Pads
04 Lead
21 Pluck
Organic House Diva Presets
80+ Diva Presets
80+ MIDI Files
10 Arps
18 Bass
02 Fx
10 Lfo Plucks
10 Modern Leads
10 Pads
10 Plucks
10 Poly Plucks
Organic Sounds from Organica 2
60 Diva Presets
60 MIDI Files (one for each preset)
20 Bass
20 Sequences
10 Chords
05 Leads
05 FXs
Organic Sounds from Organica 3
59 Diva Presets
59 MIDI Files (one for each preset)
10 Bass
10 Chords
06 Duophone Lead
05 Pads
13 Sequences
05 Short Sub Bass
Demo Preview:




Hi Guys,this is the OFFICIAL Fls Audio Website. Visit every day www.flsaudio.com to watch the latest posts.Save the link on your browser.Respect!