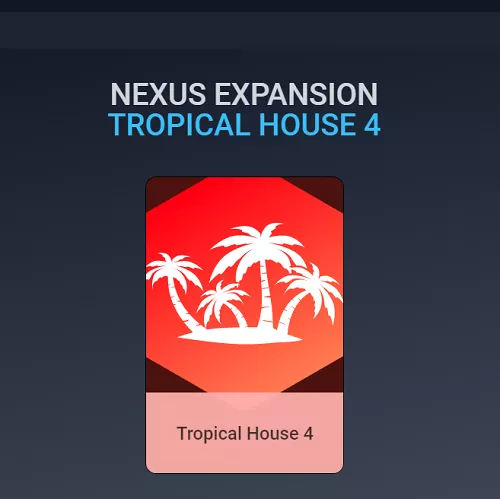 NEXUS EXPANSION TROPICAL HOUSE 4
Beach-ready
Are you feeling hot, hot, hot? Don't miss the latest banger from Andy Hinz!
He takes things to the next level in Tropical House 4, with the beauty of natural instruments, pianos, mallets, plucks, steel drums, bells, atmospheric pads, lush leads, mood-lifting arpeggios, sunny sequences, spacious mixed drums, and beach-ready percussion.
Even on the hardest day, these sounds can't help but put a smile on your face and fill your day with sunlight!
XP Tropical House 4 134 presets
ARFlutey Chords
ARMake me Feel
ARModern Bass
ARPlucked Chords Split
ARSunshine
ARTrancy Plucks
ARTropical Piano 1
ARTropical Piano 2
ARTropical Piano 3
ARVocal Cutz
BAAfter Dark
BAAlive
BABass Organ
BACloser
BADeep End
BADope
BAEverybody
BAFeels Good
BAIt's Solid
BALaguna
BALegacy
BAModern Bass 1
BAModern Bass 2
BAModern Bass 3
BAPunchy Bass
BAReso Bass
BAShake It
BASkyline
BASquare Puncher
BAStereo Bass
BAThe Feeling
BATouch Me
BATropical FM
BATropical Saw
BLSummer Bells 1
BLSummer Bells 2
BLSummer Bells 3
BRFat Brass
DRDemo Drums 1
DRDemo Drums 2
DRDemo Drums 3
FXDemo FX
GTDream Guitar 1
GTDream Guitar 2
GTSteel Guitar
GTThe Mute
LDBlue Line
LDMedusa
LDPulses
LDTemptation
LDTropical Lead 1
LDTropical Lead 2
LDTropical Lead 3
LDYour Love
MADeep Waters
MADigital Mallet
MAForever
MAHappiness
MAMarimba
MASoft Mallet
MASummer Nights
MAThe Summer
PDDreaming
PDJune
PDMetal Pad
PDMystery
PDPurity
PDSmooth Pad
PDVoice Pad
PLChill Square
PLDreamharp
PLFlutey Pluck
PLGuitar Pluck
PLHappy Times
PLHold Me
PLMarimba Love
PLNice Pluck
PLRaindrops
PLSquare Block
PLSunrise
PLThe Pike
PLTropical Square 1
PLTropical Square 2
PLWith U
PNGrand Piano 1
PNGrand Piano 2
PNSoft Piano
PNSunshine Stack 1
PNSunshine Stack 2
PNSunshine Stack 3
SQBe Free
SQBlue Sky
SQEveryday
SQFading
SQHolidays
SQI Got You
SQInto Paradise
SQJust be Good
SQLove Again
SQMidnight
SQOnly One
SQPiano Style 1
SQPiano Style 2
SQPiano Style 3
SQPop Style 1
SQPop Style 2
SQPop Style 3
SQRelaxing
SQRight Here
SQRise
SQSummer Chill
SQTake my Hand
SQThe Good Times
SQThe Moon
SQThe Power
SQTriplet Beat
SYChord Split
SYDreamsyn
SYLove Tonight
SYPlucked Chords 1
SYPlucked Chords 2
SYPlucked Chords 3
SYSoft Chords 1
SYSoft Chords 2
SYSoft Chords 3
SYSummer Dreams
SYWah Chords
VOChoir Pad
VOVocal Cut 1
VOVocal Cut 2
VOVocal Cut 3
VOVocal Lead
WWTropical Flute 1
WWTropical Flute 2
Hi Guys,this is the OFFICIAL Fls Audio Website. Visit every day www.flsaudio.com to watch the latest posts.Save the link on your browser.Respect!