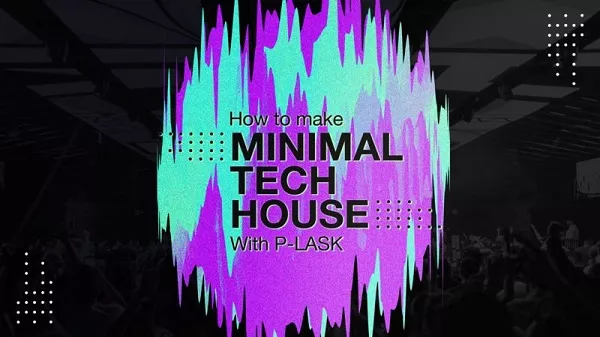 Sonic Academy How to Make: Minimal Tech House with P-LASK TUTORIAL
Back again by popular demand is Ableton Certified Trainer P-LASK for a new 'How To Make' course where he builds his new track Altered Reality from scratch giving you all the tools, methods and knowledge you need to make Minimal Tech House.
Inspired by labels such as PIV Records and artists like East End Dubs, Harrison BPD and Chris Stussy Paul creates an emotive, chilled but groove-laden track with evolving synth stabs and varying bass lines, pads, atmosphere and vocals.
In this easy to follow step-by-step guide, Paul covers everything from drums, bass, synthesis, transitions, arrangement, mixing and mastering. As with all of his courses, there are a ton of production tips and tricks when working in Ableton, all using predominantly Ableton stock plugins.
Whatever your ability you're guaranteed to raise your production game with this course.
Tutorials
INTRODUCTION AND PLAYTHROUGH
Tutorial 01 – Introduction and Playthrough
DRUMS
Tutorial 02 – Drums Part 1
Tutorial 03 – Drums Part 2
Tutorial 04 – Drums Part 3
MELODIC ELEMENTS
Tutorial 05 – Bass
Tutorial 06 – Atmospheric Organ Stab
Tutorial 07 – Synth Stab Response
Tutorial 08 – Pad
VOCALS AND TRANSITIONS
Tutorial 09 – Adding Vocals
Tutorial 10 – Creating Vocal Textures
Tutorial 11 – Crash Cymbal Effects
ARRANGEMENT AND AUTOMATION
Tutorial 12- Arrangement Part 1
Tutorial 13 – Arrangement Part 2
Tutorial 14 – Automation Part 1
Tutorial 15 – Automation Part 2
MIXING AND MASTERING
Tutorial 16 – Mixing Down the Drums
Tutorial 17 – Finalising The Mix
Tutorial 18 – Mastering
Hi Guys,this is the OFFICIAL Fls Audio Website. Visit every day www.flsaudio.com to watch the latest posts.Save the link on your browser.Respect!