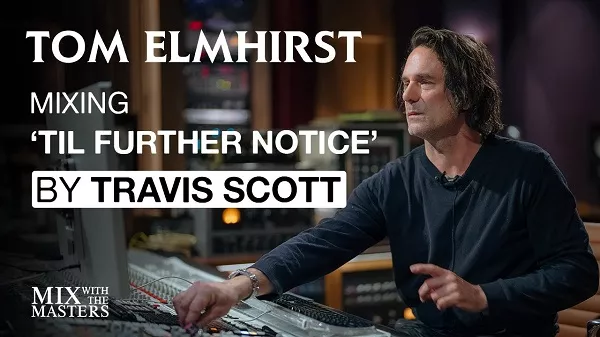 Tom Elmhirst Mixing TIL FURTHER NOTICE by Travis Scott ft. James Blake & 21 Savage TUTORIAL
Watch the Grammy-winning engineer reconstruct the mix of one of this year's biggest records. In this series, Tom presents his in-the-box workflow for the very first time – an approach he perfected while finishing the album at Rue Boyer Studios. The boundaries between engineering, sound design, and arrangement begin to dissolve as he delves into the art of mixing in the modern age.
Tom begins with an overview of his custom-built ProTools template. He introduces his unusual "drag-and-drop" effects workflow, a unique approach that pays tribute to iconic dub producers of the late 60s and 70s. With an array of complex effects at his fingertips, he is able to create a sense of freedom and unpredictability that is difficult to achieve in the digital domain.
Tom uses these effects to create a vast amount of depth, color and tone in the mix. From Travis Scott's signature auto-crooning, to 21's textured verses and James Blake's haunting vocal hooks. You will learn how he sets the stage for each of these superstar performers and creates bespoke vocal chains for each moment of the track.
As he works through the arrangement, he zooms in on each of the song's iconic transitions. He picks apart their construction and demonstrates how he turned each one into a standout moment. This attention to detail is a signature in Tom's work, and by showing you the inner workings of his process you will learn how mixing and arrangement are two sides of the same coin.
Hi Guys,this is the OFFICIAL Fls Audio Website. Visit every day www.flsaudio.com to watch the latest posts.Save the link on your browser.Respect!